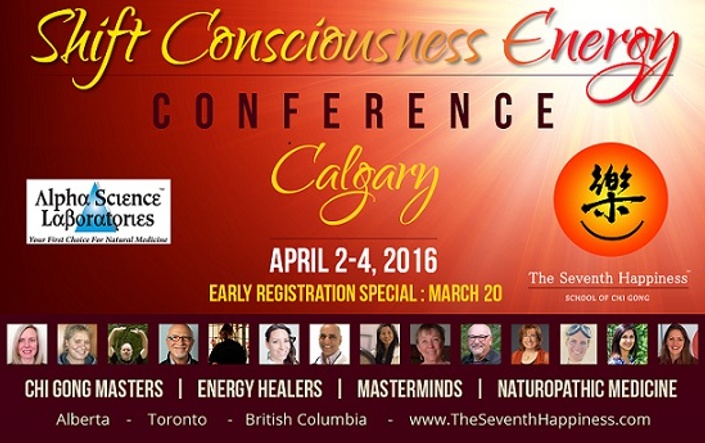 Shift Consciousness Energy Conference Reteat
18 HEALING TOOLS
Master Teresa gathered some very experienced teachers and energy workers to present in a 2 day Transnational Conference Retreat. There are 3 groups of learning.
Group A : Chi Gong - 7 Chi Gong Videos
1. Spring Forest Qi Gong
2. Eight Silk Brocades Qigong
3. Golden Lotus Qi Gong
4. Yoga and Chi Gong
5. Chair Chi Gong
6. Money Chi Gong to attract money
7. Advanced Heart Chi Gong to Balance the Heart Charka
Group B: Naturopathic Medicine - 3 Videos
Dr. Elvis Ali, R.Ac., ND
1. Menopause
2. Diabetes
3. Immunity Workshop
Group C: Other Modalities 7 Videos & 1 Audio
1. Trilotherapy
2. Shift Happens - The Power of Love
3. Deep Trance Reading with the Willows
4. Sacred Sound for Expanding Consciousness
5. Aromatic Kinesiology
6. Core Belief Engineering
7. Holding Space
8. Healing "with" Horse and Healing "for" Horse (audio)
Information of the Presenters
Munira Jiwa, Calgary AB.
Spring Forest Qigong is a form of Medical Qigong developed by International Qigong Master Chunyi Lin. Master Lin's vision is " A Healer in Every Family, and a World Without Pain and Suffering" SFQ's simple and accessible style has helped over a million people with various health issues.
Munira Jiwa is a Spring Forest Qigong Master and Spreader of Qi~Joy with her Calgary based business, Core Energy Wellness. Munira experienced a profound healing transformation from her chronic neck and back pain in 2005 after discovering Spring Forest Qigong (SFQ). She is now passionate about empowering others through instructing and sharing the practice. Coupled with her training and experience as a Physical Therapist, Munira is a sought after speaker and educator in Calgary's Health and Wellness community.
She has initiated and built the expanding Spring Forest Qigong Community in Calgary and has been instrumental in hosting Master Chunyi Lin in Calgary over the past 4 years, enriching the lives of thousands of Calgarians that were part of the healing experience.
Angel Rogers, Calgary
Trilotherapy is a combination of Western Psychology and Eastern Buddhism that combines both worlds to satisfy the head and the heart so the inner Buddha may awaken and live a full and happy life.
88% of all suffering happens internally in the mind. If you were able to be at peace and not have your head pull you in one direction and your head in another, you will have peaceofmind. You only see the world through the perceptionofyour mind. If your mind is not clear and healthy, and the heart is not fullofjoy, you will see all things through a filterofmud and pain. There is no need for this. What it comes down to is, have you lost your mind?
Angel Rogers was appointed DoJo Sensei by Zen Master Nissim Amon in 2014, one of only two Trilotherapy Senseis in the world. Join Sensei Rogers as she guides you through how to end suffering of the mind by showing you different ways for the busy mind to meditate, explain the confusion about karma, how to tell when your brain thinks that HE is the boss, how to tell if your heart is not paying attention to logic, and how to find your peaceofmind. It is the most precious thing you can guide yourself, do not give it away so fast. Learn to stop turning your peace to pieces.
Dave Watson, Toronto On
Shift Happens - The Power of Love
Love is the binding force of creation. It is the one, single power that draws atoms together to create our Universe. The true Law of Attraction. Join us at the crossroads of the current shift of energy and consciousness and discover how to adapt to the intellectual, emotional, energetic and spiritual changes flowing through your life in this time of times
Dave Watson is life strategist, psychotherapist, master channeler and author - with over 40 years of experience in balancing the psychological and emotional bodies, he carries extensive experience and an incredible tool box of knowledge. His accurate deep trance readings have helped many people who feel stuck in life find direction and gain insight. Unlike a tarot card or psychic reading, when Dave channels he uses the Edgar Cayce method, and simply 'goes to sleep' and allows the information to come through him. His clients include psychics, energy healers and professionals who believe in getting counsel and messages from the other side to guide their journey. When you can ask a Question, there will be an Answer.
Sharon Carne, BMus, M.F.A., Calgary AB
Sacred Sound for Expanding Consiousness
For as long as human beings have lived on this planet, sound has been a valued companion as one of our first healers and superb community builder. It is also a catalyst to expand consciousness. Throughout the ages, one of the most powerful sounds used to expand consciousness, and stimulate healing, is the use of the voice, in particular, vocal harmonics, sometimes called overtone singing. It is the most sacred and powerful sound that human beings can make with their voices. During Sharon Carne's session you will be learning how to make these sounds. Bring lots of water and a snack for grounding after the session.
Sharon Carne is an author, speaker, musician, recording artist, sound healer, Reiki master and consultant. She has been a faculty member of The Conservatory at Mount Royal University in Calgary, Alberta since 1988. Sharon is the founder of Sound Wellness, whose programs are at the forefront of education in how sound and music can be easily applied to your everyday life - to reduce stress, help you concentrate, energize you, inspire you, support your health, and so much more. Sharon is the author of Listen from the Inside Out, and has produced and recorded several CDs, solo and with others. She is invited to speak about sound healing to a wide variety of corporate and private audiences.
Dr. Elvis Ali,R.Ac., ND, Toronto On
Naturopathic Medicine & Menopause
Each female is unique and deals with menopause in her own way depending on the severity of symptoms. There are a number of physiological, psychological, and emotional symptoms that may be associated with low estrogen levels and or the stress of aging. These symptoms include: fatigue, irritability, insomnia, inability to concentrate, depression, memory loss, headache, anxiety and nervousness.
Some of the more serious signs and symptoms of menopause include an increase in the prevalence of cardiovascular disease and osteoporosis. These diseases, held somewhat in check by the presence of pre-menopausal female hormones, are serious concerns for the aging woman. It was once believed that estrogen replacement also reduced the risk of cardiovascular disease, however, this has recently been disproved by two large-scale studies.
HRT is one option to deal with the symptoms of menopause, but prior to making this choice one can consider naturopathic approaches that will provide relief without serious side effects.
Dr Elvis has been in practice for 30 years specializing in Chinese medicine, sports medicine and nutrition. He received his first degree in 1979 in Biology. He was one of the first full time graduates in Canada to receive his Doctorate of Naturopathic Medicine in 1987. In 2006, Dr. Ali completed his studies on Body/Mind Medicine at Harvard Medical School where he was a member of the postgraduate association at Harvard.He is a Registered Acupuncturist and has been a Staff member at CCNM (Canadian College of Naturopathic Medicine) and CCHH (Canadian College of Holistic Health).
Dr. Elvis is the Medical Advisor of Alpha Science Laboratories; he serves as one of the Editorial Board Advisor for Alive Magazine, a Board Member of the OBACM (Ontario Board of Acupuncture and Chinese Medicine) and a member of the OAND (Ontario Association of Naturopathic Doctors) and CAND (Canadian Association of Naturopathic Doctors).
Dr. Elvis has published numerous articles and written several books, including his latest book "Little book on cancer", appears on numerous radio and TV shows and lectures internationally.
Elly Roselle, White Rock BC
Core Belief Engineering is a gentle method that specializes in one-on-one interactions, custom designed to each individual's needs and unique personality. This fascinating process aids in accessing hard-to-reach aspects of the Self and, in the process, builds on the breadth and strength of your Conscious Mind. Students and clients and clients around the world have made changes that they had thought impossible. If you ever feel stuck for too long in one uncomfortable pattern Core Belief Engineering may be the tool you need for a breakthrough.
Elly Roselle is the creator of the Core Belief Engineering method and the founder of the College of Core Belief Engineering. Since 1984 she has taught and practiced her method of aiding people to uncover and change deep seated core beliefs that hold them back from personal fulfillment, happiness and wellbeing. Her client base extends around the world. Her students and Practitioners have widely acclaimed and incorporated her teachings into their personal and professional lives.
Her book "Changing the Mind, Healing the Body" illustrates in depth her work with clients and how the changes that happen on the psychological levels also manifest on physical and energy levels. Elly currently resides in White Rock, British Columbia and is in semi-retirement. She has agreed on this rare occasion to speak with us at this Shift Energy Consciousness Conference in Calgary.
Master Teresa Yeung, Toronto On
Money Chi Gong
Pureland Qi Gong is a union of Mountain Chi Gongs, the wisdom of the West, Master Teresa Yeung 20 years insights and discoveries on energy Chi healing. The feeling of Chi is palpable vibrating high containing her unique healing Chi Signature.
Master Teresa Yeung is the Director and Founder of the Shift Consciousness Energy Conference. She is a Generational Master of Chi Gong, speaker, healer, author and the sole successor of Grandmaster Weizhao Wu's lineage. Wu was a distinquished Chi Gong master, educator and was selected the highest Chi Gong title in China and was member of the Chinese Talent Bank recognized as a national treasure in 1995. Their highly successful Wu's Eye Qi Gong® program had gone through 4,000 person 3-year repetitive research studies with 100-medical staff helped millions of people.
The mission and motivation of Master Teresa is rooted in a traditional Chinese Proverb, "WHEN YOU GIVE A PERSON A FISH, YOU FEED THEM ONCE, BUT IF YOU TEACH THEM HOW TO FISH, YOU FEEL THEM FOR A LIFETIME."
She named her school "Pureland International Qi Gong " is to bring joy and happiness to you with through Chi Gong.

Dr. Elvis Ali, ND
The immune system normally protects the body against harmful substances (bacteria and viruses) and reacts to foreign substances called allergens, which are generally harmless and in most people do not cause a problem. For those suffering from certain disorders, one's immune system is compromised and they react to a usually harmless substance(s), such as pollens, food, drugs, dust mite, molds, danders, and foods. Symptoms can consist of a runny nose, stuffy nose, sneezing, nasal itching (rubbing), itchy ears and throat,sneezing, coughing, headache, fatigue, skin rashes, watery eyes, wheezing and post nasal drip. Given time, the body's immune system will make antibodies to fight the infection and the best defense is to boost your immune system.
There are many pharmaceutical drugs that one may choose from to help with immunity. However, but due to certain side effects and only temporarily relief to relieve symptoms, it is best to choose natural approaches and use supplements to boost one's immune system to relieve symptoms.

Mario Argento, Calgary AB
Eight Silk Brocades Qigong Brocades is a popular form generally refers to how the eight individual movement convey a silken quality to the body and its energy to improve the general health.

Mario Argento, Qigong Instructor/Owner of Qigong Calgary and 7th Chakra Qigong & Yoga Centre. Mario developed his passion for Qigong in 2001 when he turned to the practice as an alternative health treatment to heal his back injury. Since then Mario has studied various schools of Medical Qigong. He teaches Qigong because he believes that it is highly effective in preventing and healing chronic illness and methods such as Qigong will be an essential part of a sustainable health care system. Qigong was his healer and is now his passion in life.
Mario has emerged as one of today's most accessible and accomplished teachers of Qigong in Calgary. He presents easy-to-learn practices that will help you relieve pain, clear stress and tension, and harness your body's unequaled capacity for self-restoration.
Jan Merchant, Alliance AB
Aromatic Kinnesiology
By combining two modalities, one powerful synergistic modality emerged. "AK" is about enhancing Your health and well being, by taking Us into a world of energy, one where Our Soul awaits to rediscover and awaken to the present time, where Our system learns and becomes educated to function at a higher, more present level of awareness. Aromatic Kinesiology is the result of decades of dedicated work by Robbi Zeck ND of Australlia and is highly respect in her fields.
Jan Hunter Merchant is a practitioner of energy work. She had always noticed that she was more aware of things in life growing up; but it was the death of Her Son that led her to pursue a journey of self healing. This then lead to the path of helping others, as well as her life long love of horses. She has several modalities and uses them in a complimentary client based need, both Humans and Horses at The Crystal Cabin.
Dr. Elvis Ali, R.Ac, ND
Naturopathic Medicine & Diabetes
Diabetes mellitus is the name given to disorders of the regulation of blood glucose (also called "blood sugar") in the body. The main types are type I and type II. Type I is an autoimmune disease that strikes both children and adults at any age which occurs when the body's own immune system destroys the beta cells in the pancreas. On the other hand type II is a metabolic disease (also called "metabolic disorder") in which a person's body still produces insulin but is unable to use it effectively.

Dave Watson, Toronto On
Deep Trance Reading with the Willows
The Willows – channeled by David Watson
The Willows – channeled by David Watson are a Soul Group or Group Energy consisting of thousands of entities that exist on both the physical and non-physical plane. This includes entities on the spirit plane as well as the Higher Selves of many still living in the here and now, including your higher self when you engage in a Willow session. Unlike a tarot card readings or psychic readings, when Dave channels, he consciously enters a trance like state and allows the necessary information to come through him. Like Edgar Cayce David enters into this state through a deep self- hypnotic process that allows him to access practical usable information to help answer the questions of your life.
The Willows tell us their purpose is to help fulfill our individual and collective potential in life through uncovering and manifesting the free will we all hold at our very core.
Dave Watson is life strategist, psychotherapist, master channeler and author - with over 40 years of experience in balancing the psychological and emotional bodies, he carries extensive experience and an incredible tool box of knowledge. His accurate deep trance readings have helped many people who feel stuck in life find direction and gain insight. Unlike a tarot card or psychic reading, when Dave channels he uses the Edgar Cayce method, and simply 'goes to sleep' and allows the information to come through him. His clients include psychics, energy healers and professionals who believe in getting counsel and messages from the other side to guide their journey. When you can ask a Question, there will be an Answer. Website

Millie b, Caglary AB, Holding Space
Magic lies within safe containers and truly honoring experiences as they unfold by holding space. Let's consider these windows of opportunity where transformation, paradigm shifts and discovering inner peace are all possibilities. Let's acknowledge the power and sacredness of holding space.
Millie b is an intuitive visionary, master weaver of connecting people and creating spaces. LMP (likemindedpeople) Studio was her vison of a safe sacred space held for community. A vision that was ignited by her own personal experience of safe space at Burningman. As a self proclaimed Experience Alchemist, holding space is her innate sacred ambition. It is through raw reflection of personal experience that Millie candidly shares her passionate perspective on holding space.
Mark Broscheit, White Rock BC
Golden Lotus Qi Gong
The Golden Lotus Kundalini Qigong is a rare practice using movement, mudra and mantra to access and elevate the Kundalini energy at the base of the spine. This practice opens and clears the major chakras as well as strengthening your connection to spirit.
Mark Broscheit is an Aerospace Engineer, a Certified Massage Therapist, a Certified Qigong Instructor with the International Sheng Zhen Society, a Certified Chi Nei Tsang Practitioner, a member of the International Healing Tao and of the Natural Health Practitioners of Canada. He is also Master Teresa® Fa Chi Si practitioner of The Seventh Happiness® School of Chi Gong. Mark has always been inspired to create his own Qigong named "Golden Lotus Qigong".
Lee Anne Knight, Georgetown, On
Yoga and Chi Gong
An explanation of how Chi Gong breathing exercises can enhance your Yoga practices and heal your body will be covered.
Lee Anne Knight is an Holistic Practitioner and Movement Educator with over 12 yrs of training and experience in the wellness and movement field. She is a hatha yoga teacher, Thai Yoga Massage Practitioner, Nia Instructor and Healthy Foot Practitioner. She has been under the training with Master Teresa Yeung for over 8 years on Chi Gong and is a Certified Senior Chi Gong Instructor and Ancient Fa Chi Si Practitioner of The Seventh Happiness® of Chi Gong. Lee Anne finds adding some Chi Gong to her Yoga class helps her students tremendously obtaining a balance much easier. Website
Master Teresa Yeung, Toronto On
Chair Chi Gong to Loosen Your Neck and Shoulder
Advanced Heart Chi Gong to Balance the Heart Charka
new HEART CHI GONG
'Listen to the Heart', 'Learn from your Heart' , ' With all my Heart ' are just a few phrases among many others showing us all how we all are connecting with our Heart.
With all the stresses and challenging changes in the society, the practice of the new Heart Chi Gong is an important tool to rebalance your emotional, physical heart feeling alive and bringing you great peace. Many researchers believe that balancing our heart is the key to helping us to recover from physical issues as well as emotional issues. According to John Hawkins, author of Power vs Force, he talked about balancing the Heart Charka for raising our Conscious Level 500 - Love.
Your Instructor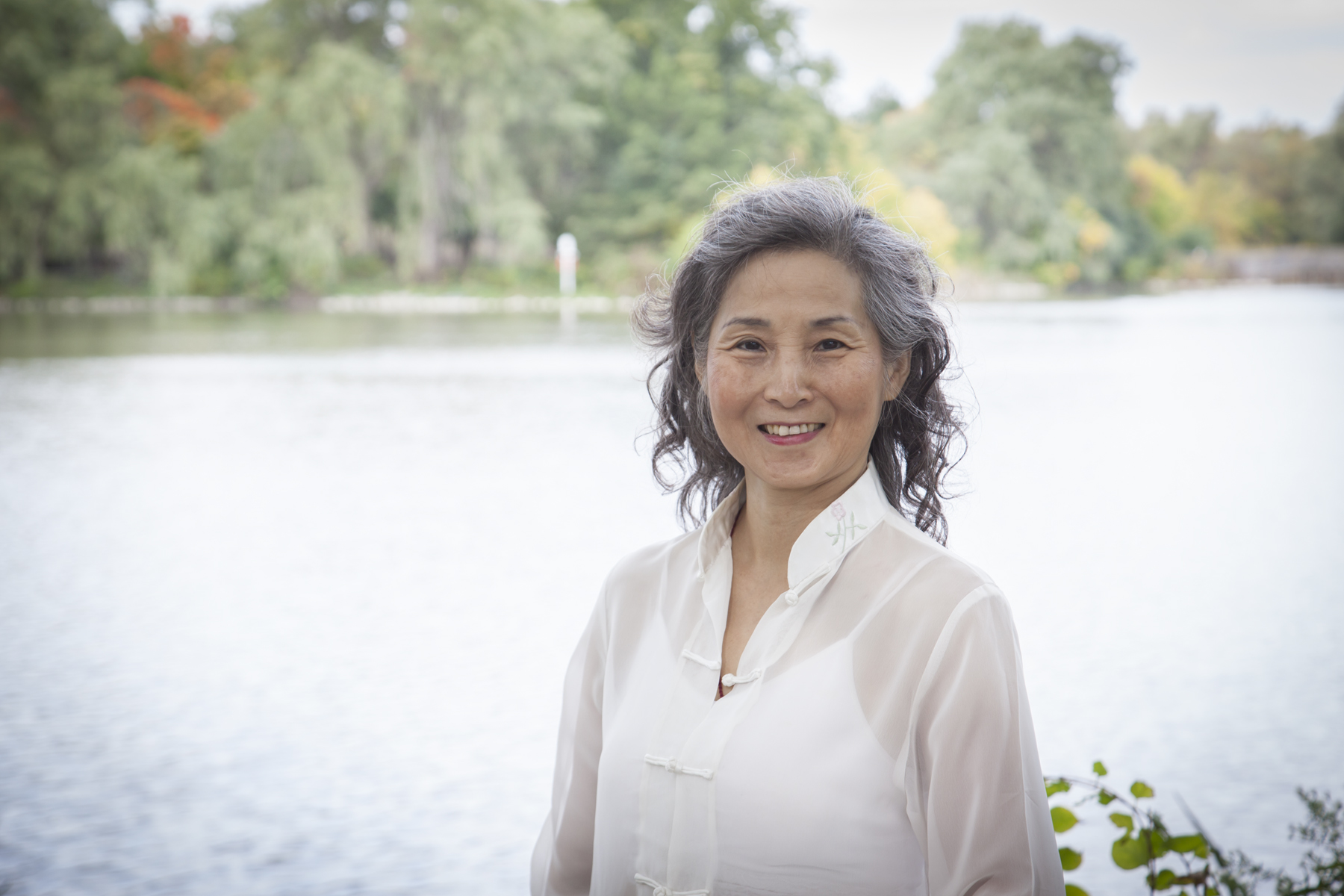 Master Teresa Yeung is an internationally recognized Master of Chi Gong, speaker, healer and three-time #1 international bestselling award winning author. Master Teresa speaks about how to achieve your physical, emotional and spiritual balance. She is the founder of Pureland International Qi Gong, a certified private institution. Also she is the leading successor of Grandmaster Weizhao Wu's lineage, who was the educator and creator of the highly successful Wu's Eye Qi Gong which has helped millions of people. In addition, she is a continuing education professional development activity (PDA) provider of the U.S.A. National Certification Commission for Acupuncturists and Oriental Medicine (NCCAOM).
* Instagram Live Show at Teresa's Wellbeing Wednesdays
* Women's Issues Chi Gong Program
* Monthly Free Global Remote Meditation and Healing
* Free Introduction to Chi Gong Workshop
https://purelandqigong.com/schedule/
* Boost the Lung with 5-Minute Breathe Easy Chi Gong
* Release negative energy with Standing Flex Chi Gong
Learn on YouTube
Course Curriculum
Day 1 Morning
Available in days
days after you enroll
Day 1 Afternoon
Available in days
days after you enroll
Day 1 Evening
Available in days
days after you enroll
Frequently Asked Questions
When does the course start and finish?
The course starts now and never ends! It is a completely self-paced online course - you decide when you start and when you finish.
How long do I have access to the course?
How does lifetime access sound? After enrolling, you have unlimited access to this course for as long as you like - across any and all devices you own.
What if I am unhappy with the course?
We would never want you to be unhappy! If you are unsatisfied with your purchase, contact us in the first 30 days and we will give you a full refund.
This course is closed for enrollment.