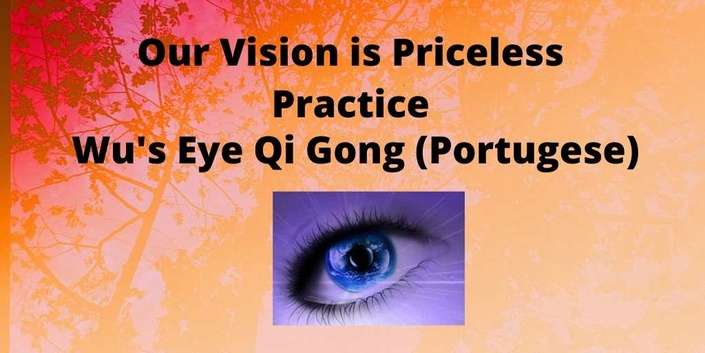 Wu's Eye Qi Gong® Program ( Portugese - Legenda em Português )
Translated in Portugese Legenda em Português
Watch Promo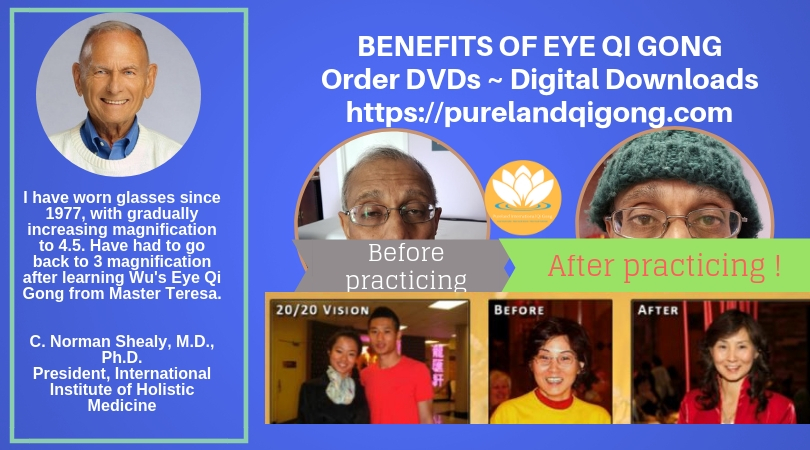 EYESIGHT IS PRICELESS, ORDER TODAY
- Level 1 to 3 (6 videos):
Videos are translated in Portugese Legenda em Português
Eyes and Liver
In Chinese, there is a saying: "Treat your Eyes like your Treasure!"
Eyes and the liver are closely related in TCM, traditional Chinese medicine, and the Chinese believe a strong liver and kidney will prevent us from aging.
In hospitals, new borne babies are checked for jaundice, a common liver condition that reveals a yellow colour in the eyes and skin. The liver is our body's most important organ after the heart, performing many important functions including metabolism, detoxification and the formation of important compounds including blood clotting factors. A weak liver may affect memory, sleep, thyroid, body weight and one's mood.
In Iridology (a system to analyze the health through reading the iris) every organ is connected to the iris via the nervous system. The nerve fibers receive their impulses through the optic nerve, optic thalami, and the spinal cord.
Naturally, when our eyes are strong, the energy will reflect back to all parts of the body. This supports the function of our liver.
History of Wu's Eye Qi Gong®
Grandmaster Wu's Eye Qi Gong® style was created in the late 1980s to help heal his mother's bleeding eyes – she was going to go blind. His mother quickly recovered completely after practicing the Eye Qi Gong and could later put a thread through a needle.
From 1990 to 1992, Master Wu led a 100-person medical team to perform a three-year repetitive scientific research study on 4,000 people to use Wu's Eye Qi Gong™ to heal eye problems. Wu's Eye Qi Gong™ has proven to have over 90% success rate.
Due to this success, millions of people have practiced the style throughout China, including students in primary and secondary schools.
In 1991, Wu's Qi Gong was videotaped as a medical educational tape for distribution all over China.
Wu's Eye Qi Gong® has received many awards:
1991 – Guangdong Province Board of Education
1992 – Guangzhou City Physical Education and Science Association
1992 – Guangzhou City Primary School Physical Education and Health Research Association
1993 – Guangzhou Province Preventive Medical Association
How does Wu's Eye Qi Gong® help the eyes?
Our Eyes like any part of the body also requires the same help, a nice flow of Qi Energy in the eyes. This eye qigong offers that.
The Wu's Eye Qi Gong® consists of a series of gentle, easy to do eye movements together with a focused breath. It can be performed in a sitting or lying down positions. It is excellent as a prevention and support tool for improving the health of the eyes and liver. The teachings are comprehensive and educational. Students are shown step by step how easily they can perform the movements. The eye Qi practice can be performed in as little as 10 minutes or longer according to a person's needs.
Master Teresa® Yeung, successor to Grandmaster Weizhao Wu,
is the only trained instructor of the Wu's Eye Qi Gong Form™ worldwide.
Grandmaster Wu teaching Eye Qi Gong to Secondary students in China.
Testimonials:
Detached Retina
In August of 2007, I had an unexpected medical emergency of a detached retina, which caused me a great deal of concern. The doctor said that I had to have surgery urgently to re-attach my retina. I had the surgery immediately on August 17, 2007.
I have a background in mind and body medicine, and realized that if I found the right teacher, I could use energy to assist in my healing. Natural healing is very important to me. I was introduced by my friend, Ed Dolezal, to Master Teresa® before and felt I would like to experience her work. Therefore, I started to practice with her through a few telephone sessions. She taught me how to take my power back by practicing Qi Gong and healed with her Qi.
While feeling improved with the Qi Gong sessions, I was pressured to go for more surgery, which I did. My surgery was successful and the doctor was very impressed by my advanced healing. The attachment was almost perfect, solving over 80 percent of the problem. Altogether I had three eye surgeries, but I never stopped my Qi Gong practice.
Now I have recovered 85 percent of my vision, which is a miracle. Every time I visited the doctor, she was impressed with the speed of my eye recovery. Practicing Qi Gong regularly is indeed very good for my natural healing. Master Teresa® has a positive influence with my eyes!
I want to express my deep respect and appreciation to Master Teresa® for her assistance during my medical/surgical crisis. Thank you again, Master Teresa®, for your excellent care and gentleness in the way you were working with me to help me understand and trust more the power of our inner energies and the method of Qi Gong.
Dr. Roxanne Daleo (Dr.Roxie) has over 20 years experience helping children help themselves with stress-related disorders. A Health Educator who taught at Harvard University Health Services, she has successfully developed programs to foster your child's resilience, self-esteem and coping for a lifetime of wellness, wholeness and wisdom.
Dr. Roxanne Daleo, PHD – Health Psychology
(Harvard, Massachusetts)


Glaucoma
I suffered some vision loss from glaucoma and intraocular pressure. Since my diagnosis, I've been focused on doing everything I can to keep my eye pressure down. I take medicated drops, but I am also making changes to my lifestyle, including trying alternative healing approaches. I was referred to Master Teresa Wu's Eye Qi Gong® Form and thought I would give it a try, not knowing what to expect. Right away I felt her energy and the comfort that came from her encouragement. She helped me to focus on a number, which was lower than any eye pressure reading I had after months of using my eye drop medication. Amazingly, at my next doctor's appointment, my eye pressure reading was exactly the number that Master Teresa® had helped me envision. I was very encouraged and will continue to supplement my medicine with Qi Gong practice.
Carlo Di Giovanni, Labour Relations Lawyer
(Toronto, Canada)
Website: http://www.upfhlaw.ca
Macular Degeneration
A patient of mine had been experiencing severe eye pain as a result of macular degeneration. This pain prevented her from reading, that being one of her favourite activities. I taught this patient some very simple breathing, movement and visualization techniques that I had learned from Master Teresa®. After just a few weeks of practicing these exercises for only 15 minutes daily, this patient states that her eye pain is 90 percent improved and she can now read for several hours each day.
Dr. Nelson, MD
(Florida, USA)
Lazy Eyes
I am surprised that my lazy eyes are better and vision is sharper after only doing 1 and half week of Eye Chi Gong.
Arif Kassam
(Calgary, Canada)
Father Guiding the Son
" For the last 2 years, my son Nick who was 5 years old started doing the Wu's Eye Qi Gong™ together almost every night before he goes to bed.
I have to give Nick who is 7 now credit that he is being quite serious about this undertaking.
We have seen his prescription go down significantly – so far by almost half (started with 8+ and now is 4.5+.)
It is true that we are also trying to find open minded doctors that will prescribe at the lowest range of his measurments, so that his eyes are allowed to improve and not overly supported by too strong a prescription. But even in the measurments we see a significant improvement, and his acuity of vision is where he has a remarkable success too. To those around it seems the improvement is natural, and he is "lucky", and I do think the improvement comes for natural reasons, but have no doubt it is due to our work with QiGong.
I was planning to keep a chronology of his improvement and once he is out of glasses, which I have confidence now, he will do, to share this testimonial with other concerned parents and the power of QiGong in general.
I wanted to express my sincere gratitude. I consider myself very lucky to have met Master Teresa and taken the workshop."
– Emilian and Nick, U.S.A
Wet Macular Degeneration
"You may be interested to learn of the amazing event that happened with my eyes after I emailed you. My earliest symptom was straight lines becoming wavy and distorted. Tonight for the first time, these lines are becoming straighter. I am so grateful. "
– Wet Macular Degeneration: 4 months Practice
20/20 Vision
"Master Teresa I thought I would let you know I took the eye Qi Gong last
summer because I was having a hard time seeing and didn't want to get
glasses quite yet. I turned 46 in the Spring and just recently had my
eyes tested. I was quite surprised as well as happy to see my eyes had
gotten better and I still have 20 20 vision…especially after my car
accident almost 2 yrs a go. I do my eye Qi-Gong every night and morning!
CANADIAN STUDENTS - We have special arrangements so that you can pay in Canadian dollars. but subject to Canadian Tax. The payment link is link, on receiving your payment, we will manually send you an email with a LOGON to the program the next day. In this way, you do not need to pay in USD. This is the payment link
Your Instructor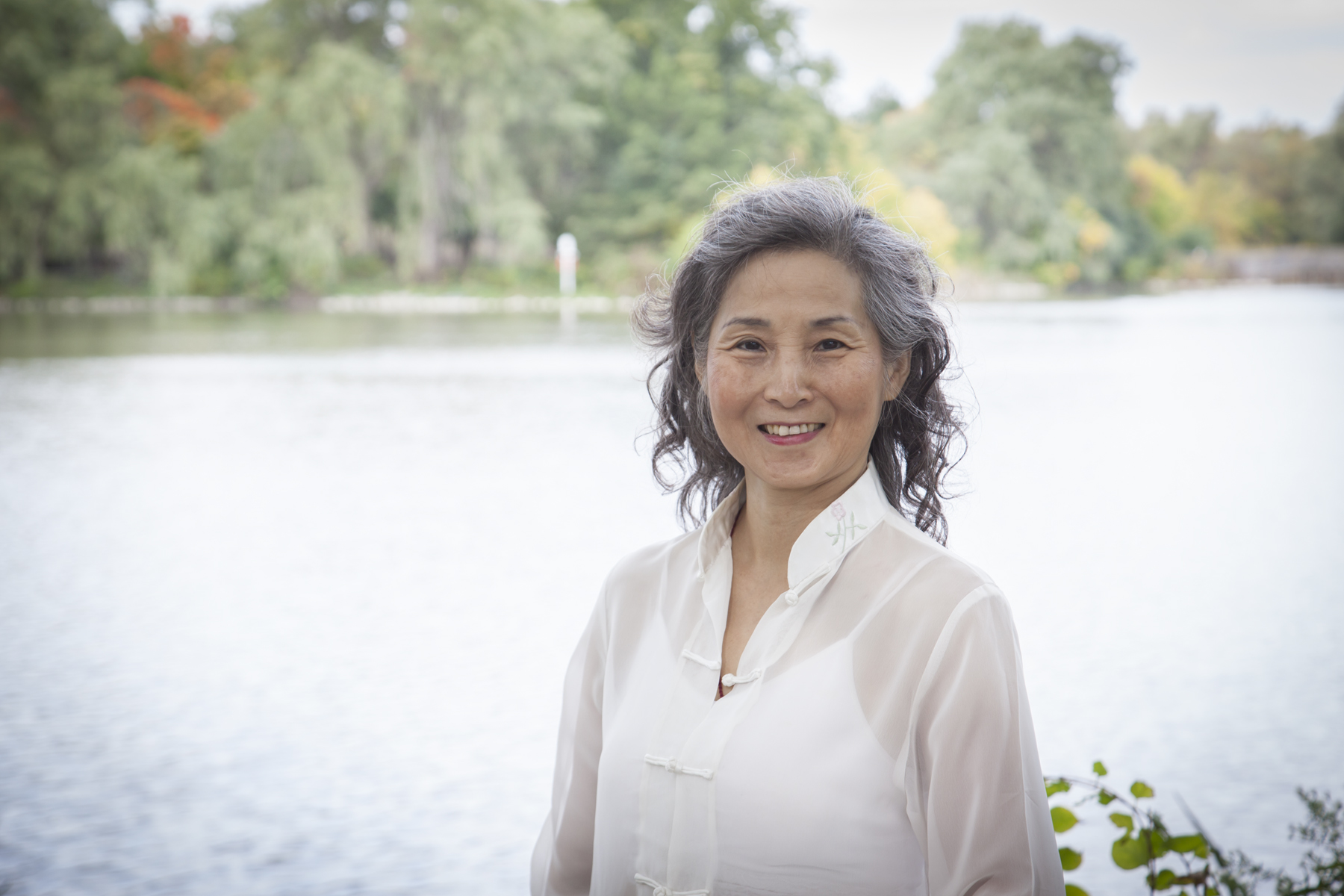 Master Teresa Yeung is an internationally recognized Master of Chi Gong, speaker, healer and three-time #1 international bestselling award winning author. Master Teresa speaks about how to achieve your physical, emotional and spiritual balance. She is the founder of Pureland International Qi Gong, a certified private institution. Also she is the leading successor of Grandmaster Weizhao Wu's lineage, who was the educator and creator of the highly successful Wu's Eye Qi Gong which has helped millions of people. In addition, she is a continuing education professional development activity (PDA) provider of the U.S.A. National Certification Commission for Acupuncturists and Oriental Medicine (NCCAOM).
* Instagram Live Show at Teresa's Wellbeing Wednesdays
* Women's Issues Chi Gong Program
* Monthly Free Global Remote Meditation and Healing
* Free Introduction to Chi Gong Workshop
https://purelandqigong.com/schedule/
* Boost the Lung with 5-Minute Breathe Easy Chi Gong
* Release negative energy with Standing Flex Chi Gong
Learn on YouTube
Course Curriculum
Level 1 Wu's Eye Qi GOng® translated in Legenda em Português
Available in days
days after you enroll
Level 2 Wu's Eye Qi Gong® translated in Legenda em Português
Available in days
days after you enroll
Level 3 Wu's Eye Qi Gong® translated in Legenda em Português
Available in days
days after you enroll
Frequently Asked Questions
When does the course start and finish?
The course starts now and never ends! It is a completely self-paced online course - you decide when you start and when you finish.
How long do I have access to the course?
How does lifetime access sound? After enrolling, you have unlimited access to this course for as long as you like - across any and all devices you own.
What if I am unhappy with the course?
We would never want you to be unhappy! If you are unsatisfied with your purchase, contact us in the first 30 days and we will give you a full refund.